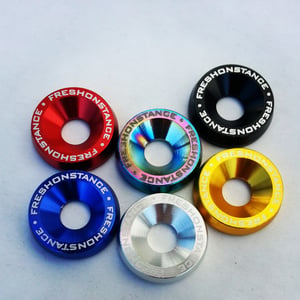 $

14.99
FRESHonSTANCE Fender Washer Kits:
All FOS fender washers are constructed from aircraft grade aluminum and are matched up with long lasting stainless steel bolts.
Offered in anodized Black, Blue, Red, and Neochrome
Fender Washer Kits includes
- 8 FOS Laser Engraved Washers
- 8 FOS 6Mx20 stainless steel bolts.
*The fender washers will fit any 10mm bolt hole under the hood.
*The 6Mx20 bolts is recommended for all parts under your hood such as fenders, headlights, bumpers, etc.